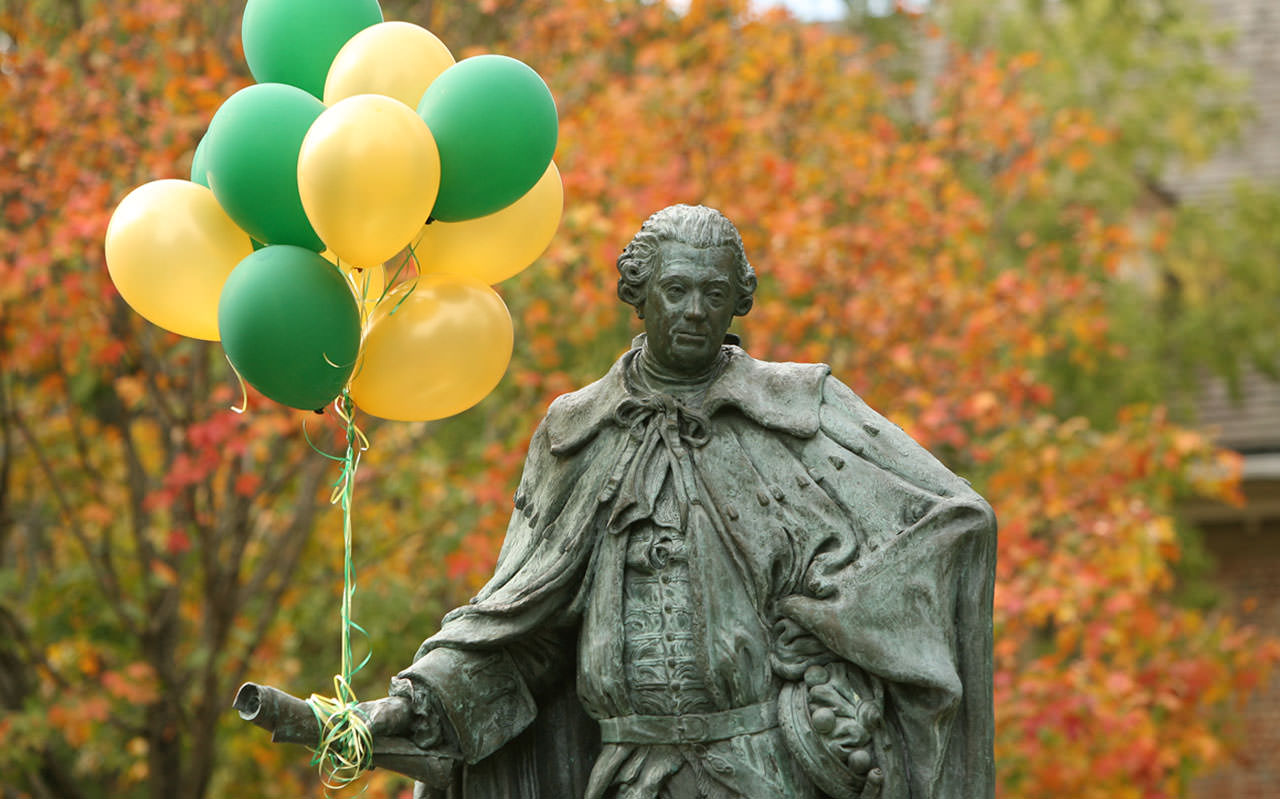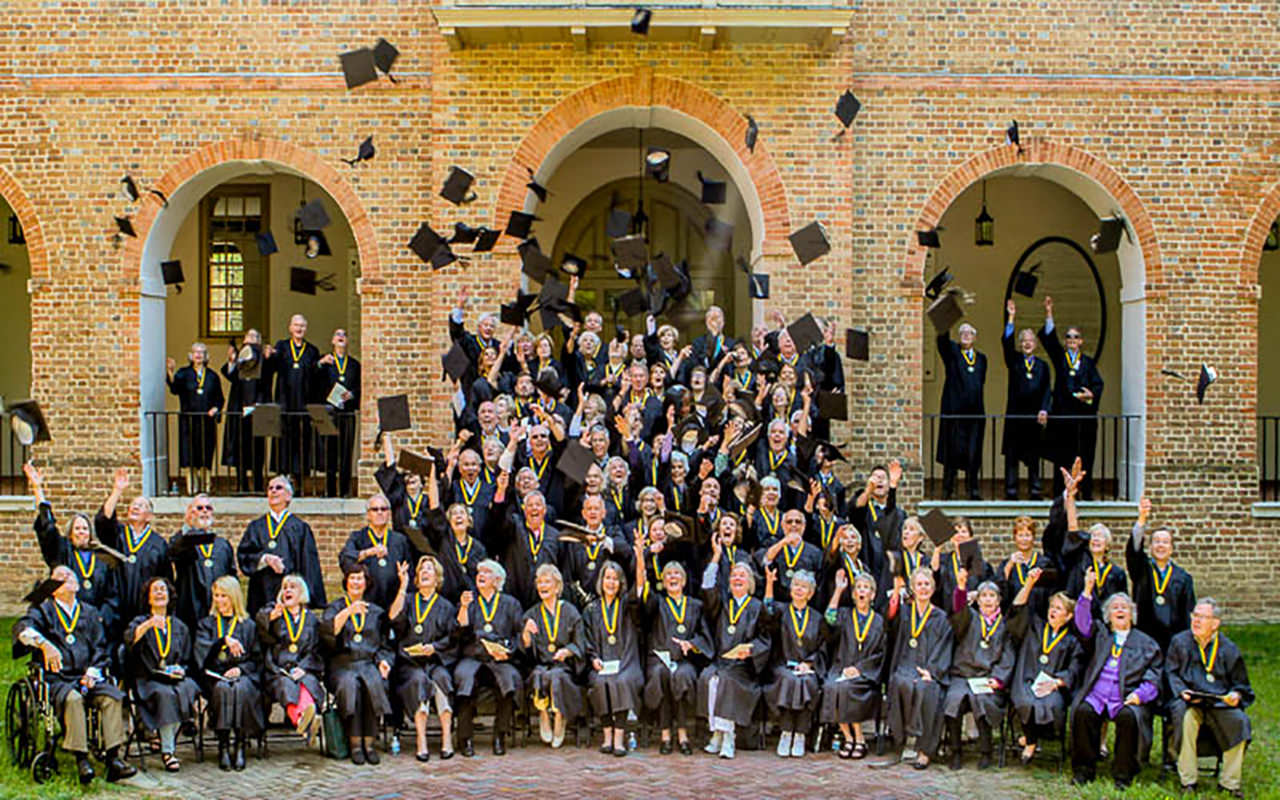 Welcome, Class of 1966!
Your reunion was on April 29 - May 1, 2016
Thank you to all who attended!
To view or purchase photos from our reunion weekend, please
go here
Class Ambassadors Program
Collapse Window
Join us! We'd like to invite you to become a Class Ambassador. As a Class Ambassador, you will reach out to ten classmates of your choosing to engage in a conversation about the importance of giving back to the College. You will serve as William & Mary's link to your community, providing regular updates and ways to engage with the College.
Whether you're thanking a current donor or encouraging a new gift, your efforts will make a huge difference!
Learn more about the program, and sign up, on the Class Ambassador website here.
Re-Echo
Collapse Window
As part of your 50th Reunion celebration, the William & Mary Alumni Association will publish an edition of the Colonial Re-Echo, a yearbook that answers the age-old question, "Where are they now?" Please complete the form here by April 18, 2016 to be included.
Powerpoint
Collapse Window
During our 50th reunion lunch, classmate Bob Gatten '66 created a powerpoint of images that he took for the Flat Hat while at William & Mary. We'd like to invite you to view a document of the powerpoint by clicking here. Thank you again for attending your 50th reunion!
Collapse Window
Class of '66 super-sized our reunion gift!
Leading up to our reunion, progress of our two Class Gifts as well as our overall class giving was be tracked here. You can read about our final numbers by scrolling below. Thank you to those who helped us reach our goals!
Class Gift Progress
Overall Giving:

$27,832,549
Estate Gifts: $16,559,770
Gifts and Pledges: $11,272,779
Overall Giving Goal:
$27,000,000
Alumni House Expansion Giving: $642,019
Alumni House Expansion Giving Goal: $500,000
Class of 1966 1693 Scholarship Endowment Giving: $1,784,936
Class of 1966 1693 Scholarship Endowment Giving Goal: $1,000,000
Class Participation: 48%
Class Participation Goal: 66%
50th Reunion Class Attendance Goal: 150 classmates
Updated on 5/5/16
Class of 1966 Project: Alumni House Expansion

As the sixth oldest alumni association in the nation, the William & Mary Alumni Association is focused on fostering the lifelong relationships and culture of engagement alumni have with their alma mater. By expanding the Alumni House, the Alumni Association will gain the much needed capacity to ensure that members of the class of 1966 and all alumni will have a warm and welcoming environment in which to renew friendships and forge new bonds when they return to their lifelong campus home.
In 1995 there were 53,000 alumni and that number has grown to over 93,000 today. It is estimated that by 2020 there will be 108,500 W&M alumni. Plans call for the addition of new meeting spaces, the largest with a capacity for up to 300 people; a business center; gathering spaces for visiting alumni; a catering area; and a new entrance with an expanded reception area to better accommodate our growing alumni body. The Alumni House also will support expanded programing for alumni, students and the William & Mary community. With new and larger spaces, the Alumni House will be a key location for starting the lifelong engagement with students while they are still on campus. The Alumni House will serve as the western gateway to campus and as a visible statement of the importance of alumni to the College.
Current plans estimate the cost of the project to be $13.5 million. In addition, the Alumni Association is seeking to establish a $2 million building maintenance endowment that will ensure the new facility stands in excellent condition to serve the William & Mary's growing alumni community for the long term.
The Class of 1966 is taking a leadership role in helping to raise funds for the expansion of the Alumni House by designating it as the class's 50th reunion project. In recognition of our class gift project, a prominent space in the expanded facility will carry the Class of 1966's name. Please show your support for the expansion of the Alumni House in ways that others will hear the thunder of our chorus – alma mater hail!
---
Class of 1966 Project: 1693 Scholarship
The Class of 1966 has the honor of creating an unparalleled opportunity for an exceptional William & Mary student: endowing a 1693 Scholar. By providing the resources to make this possible in perpetuity, our class will help William & Mary attract the very best incoming students and allow them to thrive at our truly remarkable alma mater.
Each 1693 Scholar receives priority in class scheduling, opportunities to meet campus speakers and other VIPs, and unique access to the Murray House, where fellow scholars meet, mingle and collaborate. In addition, the 1693 scholarship covers tuition at the in-state rate, fees, room and board annually — the equivalent of a full in-state scholarship or partial out-of-state scholarship. Every applicant to the College is considered for the 1693 Scholars program; currently 6-8 are selected each year.
With a $5,000 research stipend and close faculty-student mentorship and advising for four years, 1693 Scholars are uniquely positioned on the leading edge of William & Mary's top-ranked undergraduate experience. With our help, we can make this unmatched opportunity possible for more of William & Mary's finest applicants.
About the Olde Guarde
Collapse Window
The Olde Guarde of Their Majesties' Royal Colledge in Virginia is comprised of all alumni whose identified class has celebrated its fiftieth reunion and is part of the Alumni Association of the College of William & Mary. They are dedicated to preserving the heritage of the College of advocating its advancement and reputation among the nation's institutions of higher learning.
Through social, service and educational programs they endeavor to promote among our membership the welfare and support of the W&M Alumni Association. They plan activities, events and projects as opportunities for members to assist in enhancing the life of our alma mater. During our 50th reunion weekend, the Class of 1966 was inducted into the Olde Guarde. Congratulations to the new members!
Each year the Olde Guarde hosts a variety of activities from the Olde Guarde Celebration (celebrating 55th, 60th, 65th, 70th and 75th reunions), Olde Guarde Day (an annual gathering for all members) as well as an Olde Guarde Luncheon during Homecoming and a float in the homecoming parade. If you have any questions or want to learn more, please visit the Olde Guarde facebook page here or email the Office of Alumni Events at alumni.events@wm.edu
Visit our Olde Guarde webpage here to learn more about how to get involved
Honorary Reunion Committee Chair
Collapse Window
Reunion Committee Co-Chairs
Reunion Committee Members
Registration
Collapse Window
Online registration is available here.
If you have additional questions, contact the Alumni Association at 757-221-1182
Reunion of a Lifetime Events
Collapse Window
Members of the Class of 1966 and their guests are invited to come back home April 29 – May 1, 2016 to celebrate their 50th Reunion. This reunion is a once-in-a-lifetime experience that you'll want to be a part of.
Friday, April 29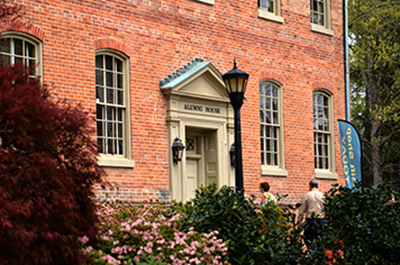 All day
Registration
Alumni House
12 - 3 p.m.
Optional lunch
Sadler Center, Dining Hall
2:30 - 3:45 p.m.
Optional Building Tour
Miller Hall, Raymond A. Mason School of Business
4 - 4:45 p.m.
Optional Building Tour
Earl Gregg Swem Library
6 - 9 p.m.
Welcome Reception
Alumni House
All throughout the day, attendees will be able to check-in and pick-up your registration packet, nametag and additional information at the Alumni House. Our day will begin with an optional lunch in a dining hall of today. You can pick-up your meal vouchers at registration.Afterwards, attendees will be able to tour Miller hall with a wine and cheese reception and participatory demonstration to follow. Then, Swem Library invites the Class of 1966 on a guided tour. This year Swem also celebrates 50 years! Come experience its many changes - highlights include the newly renovated Reeder Media Center and a VIP visit to the Special Collections Research Center. That night, guests will celebrate the start of their 50th reunion weekend with a Welcome Reception to rekindle old friendships while enjoying a full bar and heavy hors d'oeuvres. Dress is business casual.
Saturday, April 30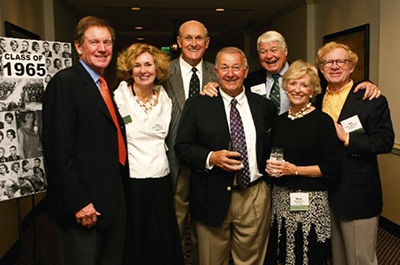 8 - 9 a.m.
Saturday Breakfast
Sadler Center, Tidewater Rooms
9:15 - 10:30 a.m.
Campus Culture: Q&A panel
Sadler Center, Commonwealth Auditorium
10:45 - 11:45 a.m.
Guided bus tour of campus
Leaves from the Sadler Center
Noon - 2 p.m.
Gift Presentation Luncheon with President Reveley
Sadler Center, Chesapeake Rooms
3 - 3:45 p.m.
Optional building tour
Muscarelle Museum of Art
6 p.m.
50th Reunion Cocktail Reception
Raymond A. Mason School of Business
7:30 p.m.
50th Reunion Dinner and Dancing
Raymond A. Mason School of Business
A fun filled day will begin with a full breakfast will be served at 8 a.m. Dress is business casual. Breakfast is followed by a panel on campus culture. This is a question and answer panel so guests can ask anything about campus life, activities, curriculum, and more. Afterwards, hop on a bus and listen to student tour guides as you are driven around campus. Discover how your beloved alma mater has grown! The bus tour will end at the Gift Presentation Luncheon in the Sadler Center. Dress is business casual. Lunch will be served at noon, during which the class will unveil its gift to the College and present the check to President W. Taylor Reveley III. That afternoon, the Muscarelle Museum of Art will be open for those guests who wish to take a tour. As we begin our night, enjoy an evening in the beautiful home of the business school. Start the night enjoying cocktail or a glass of wine while mingling with friends. Dress is coat & tie. Afterwards, Celebrate the night with an evening of dinner and dancing. The night ends with entertainment by the Rare Mixx! Dress is coat & tie.
Sunday, May 1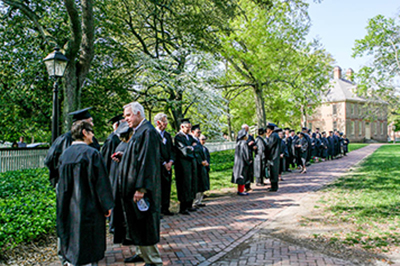 8 - 9 a.m.
Coffee and Bagels
Wren Building
9:30 - 11 a.m.
Service of Remembrance and Olde Guarde Induction
Wren Courtyard
11:30 a.m. - 1:30 p.m.
Brunch
Wren Vista
Olde Guarde Celebration & Day
4 p.m. - 7 p.m.
Welcome Reception
Alumni House
A light breakfast will be available as guests arrive to collect caps and gowns. Afterwards, members of the class of 1996 will process into the Wren Yard, reminiscent of their own graduation day 50 years ago. The class will then be inducted into The Olde Guarde of Their Majesties' Royall Colledge in Virginia and honor classmates in a service of remembrance. Following the service of remembrance and induction ceremony, there will be champagne brunch in the Wren Vista overlooking the Sunken Garden.
That afternoon, all Olde Guarde members are invited to welcome the Class of 1966, and honor those that graduated 55, 60, 65, 70 and 75 years ago with a fun and festive backyard party. Dress is casual.
Monday, May 2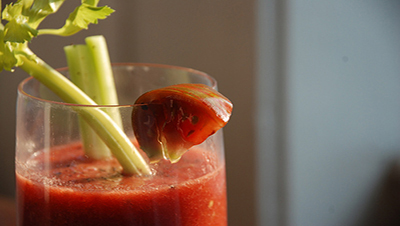 10 a.m.
Guest Speaker, Graham Henshaw
Entrepreneurship Center, Sadler Center – Commonwealth Auditorium
11 a.m.
Olde Guarde Day Reception
Sadler Center - Tidewater Rooms
Noon
Olde Guarde Day Luncheon
Sadler Center - Chesapeake Rooms
Start the morning with a guest speaker in the Commonwealth Auditorium in the Sadler Center. Then spend the morning being welcomed as the newest members of the Olde Guarde at this traditional Bloody Mary reception. Afterwards, enjoy luncheon and presentation of the 13th Olde Guarde Distinguished Service Award to Denys Grant '58.
All events, times and locations are subject to change
Directions
Collapse Window
Hotel accommodations are available at the Williamsburg Lodge. Special rates are available at this location as well as other Colonial Williamsburg properties.
To make reservations please call 800.261.9530 and use booking code 32128